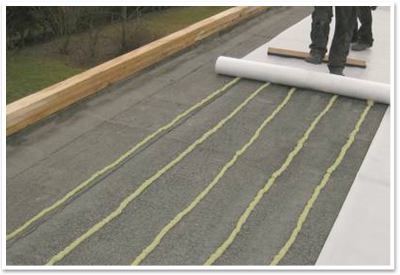 Best service
Flat Roofing
Jim Woods Roofing Contractor are approved installers of WOLFIN single ply membranes, WOLFIN is the leading producer of synthetic flat roofs and building waterproof systems in Europe.
WOLFIN come with a 20 year guarantee. Your roof will be low maintenance , cost effective and high performance to add value to your property.
Jim Woods Roofing Contractor are also certified installers of Resitrix EPDM Rubber, we would recommend installing this product to any of our clients whom are replacing an old or building a new flat roof.
Resitrix comes with 35 years of manufacturer's guarantee, with a life expectancy of up to 50 years!
Resitrix SK Partial Bond is a heat weldable, glass-reinforced, composite rubber membrane with an EPDM core. The underside is partially coated with self adhesive polymer modified bitumen, with a release film. It is a single layer application which makes it easy to install. It is permanently flexible and highly resistant to UV and the effects of the weather due to the cross-linked molecular structure.
If you are thinking of replacing your existing flat roof or installing a new EPDM Rubber Roof, give Jim Woods Roofing Contractor a call today